Stuffy, overly-formal dining rooms have long been out of interior design fashion. This is partly because most of modern society aren't lucky enough to have dining rooms: we all live in flats or smaller houses than the grand Downton Abbey-esque manors of the past, but also because society itself is much less formal and restrained; and so we want our homes to reflect this. 
People want a place to eat in their homes, whether that's the kitchen, a kitchen/diner, the living room or a dining room, that is comfortable and relaxing; somewhere that reflects their style and current trends whilst still feeling homely.
If that's the vibe you are looking for, we have curated a list featuring some of our favourite London cafes for inspiration below. Similar furniture styles can be found within our range of table tops, table bases and chairs/bar stools.
1. Lady Dinah's Cat Emporium 
This is the perfect place to take inspiration from if you are an animal lover and have pets in your home. Lady Dinah's in Bethnal Green is the UK's oldest cat cafe - a place where you can enjoy your tea and cake whilst cosying up to rescue cats! What's so great about the interior design is that it is all tailored around having cats in a small space; the cafe is both nice and relaxing for humans to enjoy and eat in, whilst also providing clever furniture solutions for the felines. Design highlights are bookshelves that double up as cat resting places, gnarled tree cat posts and cosy furniture for the humans to enjoy an afternoon tea. The aesthetic at Lady Dinah's is very much a comforting home away from home.
Photo credit: Lady Dinah's Cat Emporium
2. Farm Girl         
Farm Girl in Notting Hill is the place to use for inspiration if you like light, airy interiors combined with shabby chic design and teal and turquoise blue shades. The blue shades are painted on the bar and used in a beautiful tiled wall design, and the cafe describes its aesthetic as "country farmhouse feel crossed with a California coastal vibe". Farm Girl has in-demand interior designer Beata Heuman to thank for the design. A great idea to steal for your home if you are short on space is to put a row of dining chairs or benches against the wall, so only the table and opposite side of table chairs take up room in your space. 
Photo credit: Farm Girl
3. Peggy Porschen
This one's for the fans of millennial pink and romantic flower gardens. Peggy Porschen in Belgravia is so fancy that it is described as a parlour rather than a cafe! It's soft and romantic aesthetic is perfect for those who would like to incorporate pink in their home design, and the outdoor/flowers indoor trend. This place also provides a masterclass in utilising small spaces. The parlour is tiny, so wall space is cleverly used to incorporate floral backdrops and shelves piled with products. Using high up wall space for design, and to make more room to put your things above your eating space is something you can easily recreate at home. Putting plants in your dining space is also a great way to get some fresh, clean air into your home, especially if you live in a crowded city.
Photo credit: Peggy Porschen
4. The Monocle Cafe
The Monocle Cafe in Marylebone is for those who prefer a minimalist aesthetic; something that is popular if you don't have the space to fill with furniture and colour. What's so great about Monocle is that although it sticks to a monochrome, black, white and neutral colour scheme; it doesn't feel cold or sterile. In fact, it feels very warm, cosy and inviting, despite the absence of colour. This is thanks to the use of natural, warm wood in the furniture, cream paint and low hanging lamp lighting. 
Photo credit: The Monocle Cafe
5. Biscuiteers Icing Cafe
Last but not least, we present Biscuiteers in Notting Hill. This small cafe feels lovely and grand, like being in a classic department store, thanks to its black and white awning and chequerboard floor. The cafe is monochrome with pops of bright colours; an easy trend to create at home, and it is piled high with delicious treats. The edges of white table tops and shelves are painted gold, which adds a nice hint of luxury to the cafe where you can ice your own biscuits. The storefront is also adorned with lovely swirling handwriting and illustrations, which is something you could recreate in your home dining area with vintage cafe boards and prints. If you are short on space, hang these on the walls above your eating area for a classic cafe feel.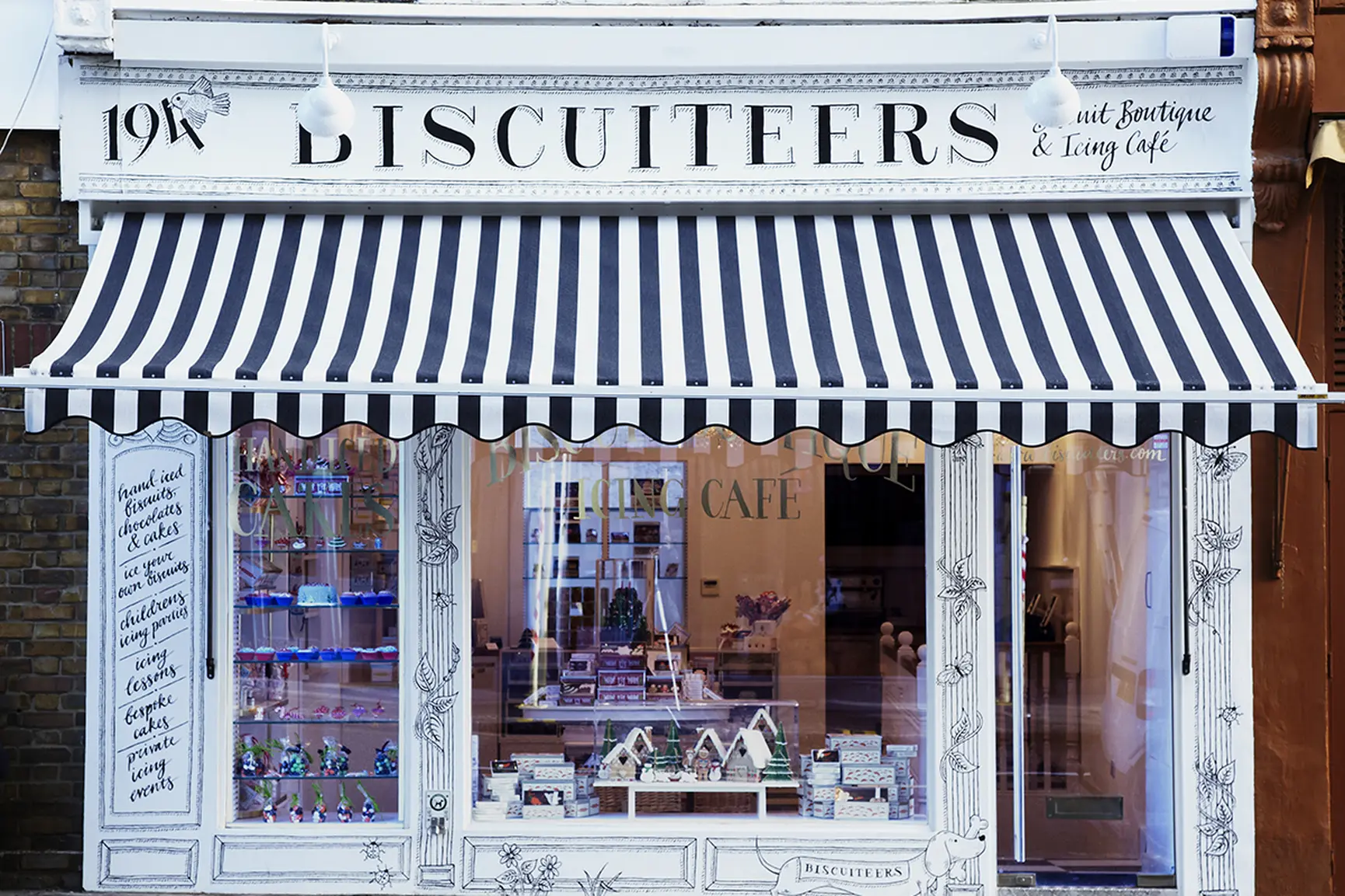 Photo credit: Biscuiteers